Stress. Mental Well-being. Pampering Yourself. Feeding Your Soul. How does the modern woman do this?
A few weeks back, I had three weeks of formal lectures left in my undergrad, followed by a massive term-end pitch to a high-profile client, an international trade law paper & then two cumulative final exams. So like any rational pre-millennium child, as in the early to mid-90s, I made an Instagram story.
And thus, Wonderlab Boutique appeared. After receiving such a personal message about puppies, kids, and remembering the importance of self-care, less than a week later I had my own personalized Wonderlab Boutique Box.
THE ESSENTIALS OF SOUL CARE. My body, mind & soul all needed some TLC, and the concept of a subscription box that was focused around ethically & Canadian-made products is something that I can easily get behind. This December Box has brought about an entirely new meaning to the term...
SELF-CARE SUNDAY
These are the items that have transformed my mind, body & soul into a very still high-strung Mattea- into someone who will enjoy her cup of coffee for other reasons that a caffeine fix, or who doesn't worry about having to scrub her face aggressively to get her makeup off after presentations because I enjoy the products I use. Do not confuse this with me not being stressed, because I am, I just have taken some much-needed me-time to take mini-breaks from the stress.
AS PROMISED, ALL PRODUCTS ARE LINKED.
Delicious ways to enjoy your Drizzle: Mix into coffee and espresso-based beverages, use as a chocolate milk base, dip your fruit into the jar, use in granola bars and balls, elevate a simple cake by adding into a batter or using as an icing, drizzle onto porridge, blend into banana-cacao smoothies, use to make an incredible Mexican Mole sauce, etc. the possibilities are endless!Drizzle Honey is an everyday luxury you can feel great about. We're completely raw, bee-friendly, and support Canadian beekeepers too!
Ingredients: Raw Drizzle Honey, Organic Raw Cacao (Fair Trade), Organic Ceylon (True) Cinnamon, Organic Lucuma, Natural Madagascar Vanilla Extract
Laying in the shade of the trees. Watching the leaves move. Quickly and slowly and quickly again. Sun-dappled and spinning. The hum of birds and insects living, everything to green.
Top notes: lemon, lime, pine | Middle notes: balsam, eucalyptus | Base notes: moss, musk
Who doesn't love taking their makeup off after a long day? What about achieving smooth, hydrated skin in one step? Our Cleansing Melt is designed to help you limit your time in the washroom by naturally cleansing your skin! This Melt will work it's magic by emulsifying and gently lifting the dirt, debris and makeup off your skin.
With the light scent of Vanilla, you will feel a sense of calm!
Ingredients: Shea Butter, Coconut Oil, Cherry Kernel Oil, Vanilla Oil
Exfoliating your skin is crucial to the healthy, natural glow, that your skin deserves. Removing the dead skin cells and debris that build up on a daily basis allows your skin to properly regenerate and takes dull, tired looking skin to glowing, radiant skin.
Cranberries are high in antioxidants and provide a boost of vitamins for your skin. Cranberries owe their superpowers to the presence of flavonoids, antioxidants, anti-inflammatory agents, organic acids, and polyphenolic compounds, along with high amounts of vitamin C.
Ingredients: Vaccinum Macrocarpon (Cranberry) Fruit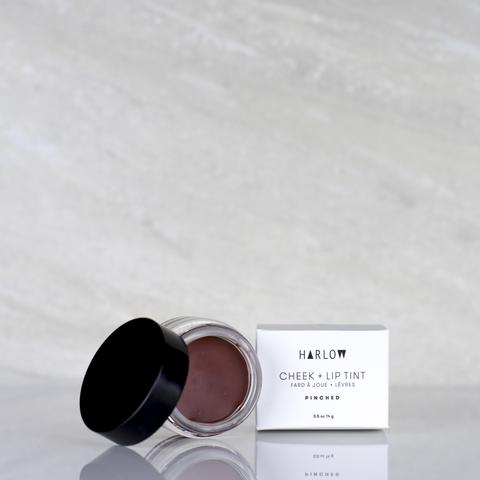 Cheek + Lip Tint - Pinched
A perfectly pinched cheek + lip. Naturally nourishing + conditioning with raw cocoa butter + organic Canadian beeswax. Buildable coverage.
Apply to lips + cheeks.
Ingredients : Theobroma Cacao (unrefined, raw Cocoa) Seed Butter, Montmorillonite (Red Reef Clay), Organic Canadian Beeswax, Helianthus Annuus (Sunflower) Seed Oil**, Camellia Sinensis (Camellia) Flower Oil**, Alkanna Tinctoria (Alkanet) Root Extract, Beta Vulgaris (Beet) Root Powder
100% natural handmade, sulphate and paraben-free body wash is handcrafted with Organic Argan and Coconut Oils to gently cleanse , hydrate and protect skin. Rosemary and mint essential oils mingle to refresh and revitalize skin and senses alike. Our luxuriously rich body wash is crafted to moisturize and rejuvenating while gently cleansing and providing nourishing antioxidants. Hydrate and protect as Rosemary and Mint essential oils meld in perfect harmony creating bright invigorating herbal aromatherapy with every cleansing experience.
Ingredients: Organic Aloe barbadensis (Aloe) juice, Coco glucoside (Coconut derived cleanser), Coco glucoside and Glyceryl oleate (natural lipid layer enhancer), Citric acid, pure essential oils / d'huiles essentielles pures, Vegetable Glycerin, Xanthan gum (natural thickener), Potassium sorbate (natural preservative), Sodium benzoate (natural preservative), Organic Argania spinosa (Argan) oil
FIRST IMPRESSIONS + UNBOXING: