Fashion is an Individual Thing- and can be assumed to be expensive if you choose to excessively dress to impress. I am a sucker for a put together look that looks elegant and effortless but let's be honest, it can be expensive. I can offer you the ultimate solution to solve this questionable societal problem. CONSIGNMENT.
If that did not get your attention, what if you could get Marc Jacobs, Prada, Yves Saint Laurent and so much more at the fraction of the cost?
Why Consignment? I have a few reasons why I have fallen for the chance to bargain hunt while building my wardrobe at the same time. SalvEdge Boutique in Calgary gives you the ability to purchase pre-loved clothing, shoes and accessories at a fraction of the original cost.
I recently had the opportunity to meet with Krista, the owner of SalvEdge Boutique, to stylize some spring looks. We focused on pieces that mix and match monochromatic looks, integrate your winter pieces into your spring looks while embracing spring patterns that definitely bring out those floral patterns that some seem to avoided. Krista was interested to see what my personal take was on fashion, so here is my interview along with the looks we shot for March!
All of the details about the pieces shot with SalvEdge Boutique are listed at the bottom of the interview.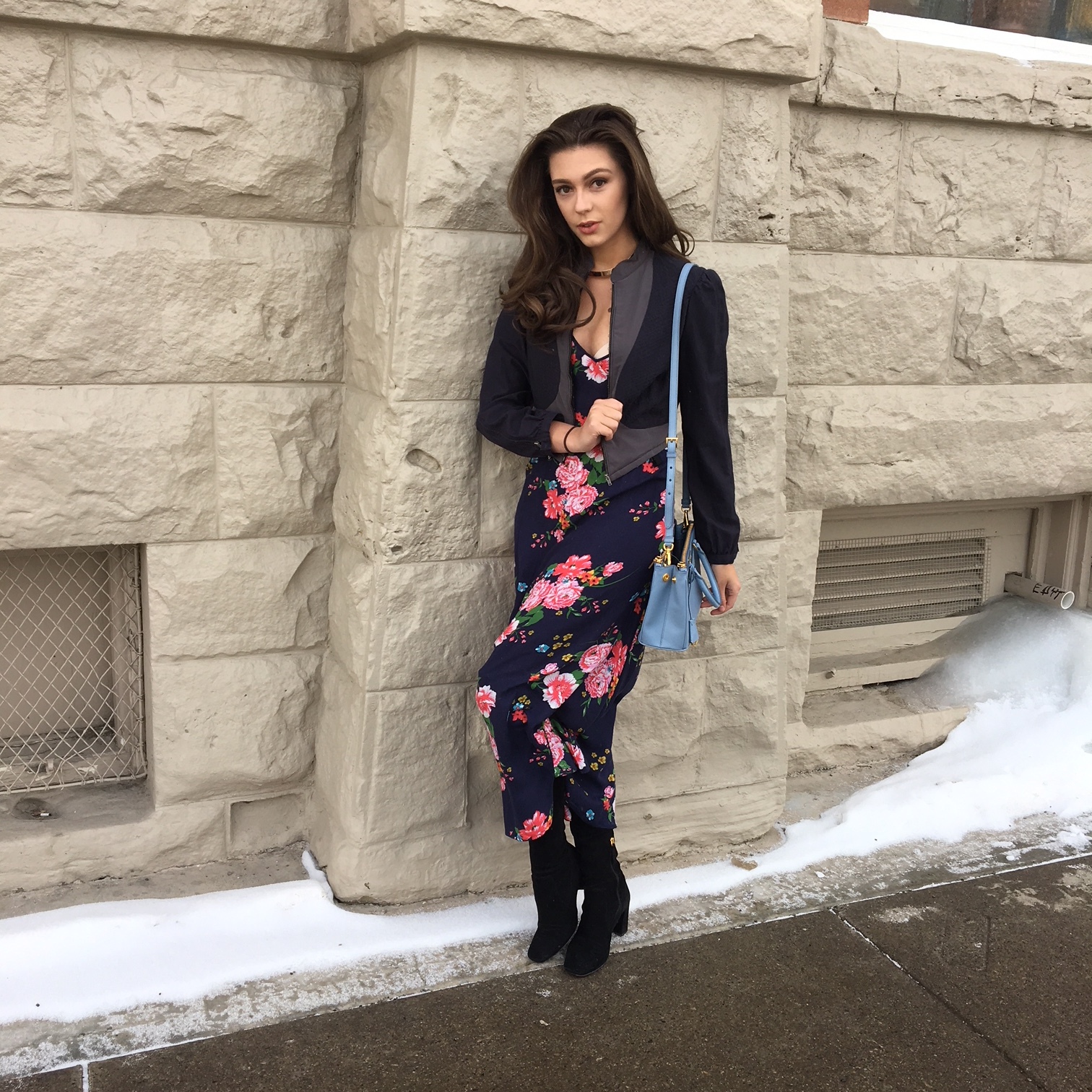 SalvEdge
March Fashion Ambassador: Mattea Henderson
"Mattea is one of those people who you can clearly describe as beautiful inside and out. With her confident, outgoing, unselfish, motivated personality we are sure to see more great things from her! We are honoured to have her as a friend of SalvEdge Boutique, and grateful to have had her showcase these pretty looks from our current inventory."
How would you describe your personal style?
Clearly not as fashionable as my little sister! But elegant structured pieces that can be feminine is a theme that dominates my cloest. If you give me a pair of dark wash jeans, a simple shirt and blazar, with a pair of killer heels and a jacket I will be in love! Hands down my favourite outfit and something you'll constantly see me in.
What does fashion mean to you?
Fashion to me is just an extension of your personality. It is another way to make a first impression without you having to speak. Fashion is not just an extension it is an expression of who you are, what you want, and what you want to say all in one.
What do you like about SalvEdge Boutique/consignment shopping in general?
SalvEdge Boutique, in my opinion, is a premium women's clothing boutique in Calgary that you can find whatever you are looking for- even if it is designer at a steal of a price. When I first discovered SalvEdge, it was because I loved small boutiques, but when I found out it was consignment I was head over heels! It probably helped that I found that unbelievable pale baby pink trench coat that I wear any occasion I can work it into an outfit, and the staff is some not only embodies Western Hospitality, but are some of the friendliest people I have ever met!
Consignment shopping is something that I have done since I was little. My parents bought us a pair of jeans, a couple t-shirts and make sure we dressed appropriately the weather, but if we wanted anything 'brand name' or that was deemed too expensive we were in charge of that cost. I have found consignment to be my saving grace as a business student, a beauty queen, and someone on a budget. Also knowing that consignment is environmentally friendly and embraces recycling is an added benefit to making you feel good about shopping!
What are some of the most memorable moments or life-changing experiences you have had as Miss Intercontinental Canada?
I recently represented Canada at the 46th Miss Intercontinental Pageant in Hurdgara, Egypt for most of January. Throughout pageants, people around the world create predictions of who they believe will place and who to watch, usually accompanied by a little write up about each delegate. A life changing experience was learning of how people viewed me; the impression I left on those from the Miss Intercontinental Organization, our host hotel, my fellow contestants and the general public,
"If there was an award for captivating personality, it would be Mattea Henderson. Our team absolutely loves this girl and her outstanding personality. She has the aura which attracts you more and more every time you see her."
Where do you see yourself in 10 years?
Wow, 10 years. I would love to say that I can still fit into my jeans from today, but realistically, I would hope to be working in some form of marketing, public relations, or being a spokesperson for an inclusive, evolutionary company inspiring change in our world. Broad statement, but I want to keep my options open. I know the next 10 years are going to be filled with challenges and change, but I hope it makes a grow and become a better person.
If you could tell your younger, more inexperienced self anything to prepare you for the real world, what would it be?
I would tell my younger self Put You First. I know that doesn't sound ideal coming from a 'Miss Canada', but it took me a long time to learn that it is okay to put yourself first in life. I recently have learned to love myself and be grateful for everything. I think its important in the real world to accept that you are not perfect and things do not come easily, but by loving yourself, you put yourself first. That if you are grateful for all the little things that make you who you are, it will make the real world that much more wonderful.
Having the opportunity to work with such an amazing Calgary business is unbelievable. I will continue to work with SalvEdge Boutique after my time as Miss Intercontinental Canada, and absolutely promote the benefits of consignment and be an ambassador.
I would love to hear your thoughts on consignment, and which spring style is your favourite!
PS. I absolutely feel head over heels for the cream Free People lace dress, so that is now currently hanging in my closest!
Here is a behind the scenes peek at what we got up to this spring in SalvEdge Boutique!
To be the next FASHION AMBASSADOR, please email salvedgefashion@gmail.com, call 403.263.6669 or message @salvedgefashion.
SALVEDGE BOUTIQUE STYLED OUTFIT DETAILS:
Pieces are available in store and online salvedgefashion.com
OUTFIT 1: "Spring Means One Things- Flowers" – Free People Floral Dress (XS. $40) / Prada Saffiano Bag ($1300) / BCBG Jacket (S, $45)
OUTFIT 2: "Confused About the Season" – Navy Blazer (S, $35) / Blanket Scarf ($30) / Ted Baker Clutch ($48)
OUTFIT 3: "It's All in the Accessories" – Vince Dress (S, $119) / Beaded Clutch ($35) / Club Monaco Hat ($30) / Bracelets4Humanity Necklace ($54)
OUTFIT 4: "Feeling Colourful" - Twelfth Street by Cynthia Vincent Silk Dress ($58) / Metal Choker by Apryl Dawn ($32)
OUTFIT 5: "Strong Feminity" – Prada Saffiano Bag ($1900) / BB Dakota Jacket ($45) / Free People Dress SOLD / Necklace by Tish ($40)