MISS USA has a special place in my heart. I really first became invested in watching and following the MISS USA delegates the year after Olivia Culpo won MISS UNIVERSE in 2012. My first real recollection of MISS USA was the year that Nia Sanchez won her title in 2014 in that stunning red gown of hers!
I was in the Maritimes of Canada during the preliminaries of MISS USA and watched it with a pageant girlfriend of mine, but I did not make a prediction. Obviously, I have my favourites but this is thankfully just my recap of MISS USA 2018.
Starting off the MISS USA telecast with footage of the delegates growing up and their experiences forming them into the woman I think was something that really added a personal touch and reliability to young girls who could then be in their shoes one day on that stage. I always want to be able to relate to the women on stage, thinking- she is just like me.
Okay, here's my stance. A lot of people have been talking about the new MISS USA and MISS TEEN USA stage.... I really like it in concept! I think it allows the delegates to really milk their time on stage when it comes to each individual's delegate strutting during her individual judging segment, but at the same time if you are behind someone in a group routine you will not be visible. Also when it came to calling the TOP15 and the girls were all facing inwards towards the runway it took away the personal connection to the fans in the audience. All they would be able to see if the back of the girls. But this could also have to do with the logistics of the venue.
INTRODUCTION
The contestant introduction was clean and concise, allowing each delegate her time on stage to shine in nothing less than the one and only Sherri Hill. Rather than pairing them with the overly formal heels, this year's delegates were sporting Chinese Laundry thick-heeled peek-toe heels in beige or black. I actually own these heels and really enjoy the fit and support.
When there was a break in the introduction of delegates the MUO always shows footage of the girls in rehearsals during their time at MISS USA. Having competed in a couple international pageants I can vouch for everything that these delegates say- it is not scripted in my mind because yes, the rehearsal days are long, your feet are tired, swollen, bleeding or all of the above. These ladies know what they signed up for and they are there to do their state proud and earn the opportunity to represent American at MISS UNIVERSE. And if that isn't scary or intimidating enough, having Lu Sierra in that room is something I can vouch for again that will light a fire under your butt. I saw her speak when I competed at IJM- International Junior Miss Scholarship Program in 2016; I had never been more motivated and terrified at the same time:
Like I said above, in relation to the stage when the TOP15 was called having the girls turn in sort of confused me. The lack of personal connection to the audience. and when the camera snapped the girls all on one side of the runway, we only saw who they could have selected from as well as the back of the heads of the contestants.
Like Lu Sierra said with Carson Kressley, there are always surprised. The fact she said that they are all strong women, that was something that I really loved. I am still happy with the TOP15 but there are girls that I thought would have made it easily.
I really need to say this- or type this... why are they now referring to the judges as the Selection Committee, I find that when it was the Judging Panel there was more of a formal correlation, and this just makes it seems lesser than what it actually is! They are yes, selecting a new MISS USA, but they judge the delegates. Anyways, that my two cents on that and moving us along to the next part.
SOUTH DAKOTA
GEORGIA
MAINE
TEXAS
NEW JERSEY
NEBRASKA
FLORIDA
NEVADA
MASSACHUSETTS
MARYLAND
TENNESSE
OREGON
NORTH CAROLINA
MICHIGAN
CALIFORNIA
MISS USA SELECTION COMMITTEE
DENISE WHITE: FOUNDER &CEO, EAG SPORTS MGMT.
CRYSTLE STEWART: FOUNDER, MUSS ACADEMY
JAMIE KERN LIMA: FOUNDER & CEO, IT COSMETICS
NATASHA CURRY: TV HOST/ANCHOR
LILLIANA VAZQUEZ: EMMY WINNING HOST/ PRODUCER
PAULA SHUGART: PRESIDENT, MISS UNIVERSE ORGANIZATION
PLUS, AN ONLINE HOME VOTE
I was really surprised that they did not introduce each Selection Committee Member separately. Although all of these women are breaking glass ceilings in their respective industries, when crowning a representative or selecting a national representative of an entire country, having a male or man's opinion/perspective in my mind is just as valuable. As women right now and human-being we are speaking about gender equality, in this situation shouldn't we be embracing what we are speaking. Once again, my two cents on the situation.
SWIMSUIT COMPETITION
Healthy Women. That is what I found is what is attractive on stage! A woman who loves her body and is confident walking in front of an audience in the least amount of fabric, These women have worked hard for their bodies and know what it takes in relation to dedication, drive and commitment.
Starting off with the group choreographed routine! Loved the energy and format to allow the delegates to shine. And I loved watching Wyoming, Alaska, Montana (Dani Walker who I have been following for the last several years) and District of Columbia.
The girls who naturally stood out to me personally:
GEORGIA: Amazing body, sassy walk.
TEXAS: Loved the sophistication of her walk, just presented herself beautifully.
NEW JERSEY: Amazing body, relaxed and confident walk while being natural.
NEBRASKA: SHE TURNED! Looks like a MiSS UNIVERSE contestant on stage!
NEVADA: She just owned her strut and she connected with the camera, audience and panel.
TENNESSEE: Ahe's fresh and beautiful while still embracing her femininity.
OREGON: I loved her! She looks like that girl next door with something sparkling for within her. AND HER TURNED TOO!
NORTH CAROLINA: She was one of my favourites from the very start of the MISS USA process. She is characterized as not that tall, but her walk and her facial expressions make her a clear contender in my mind, Can you tell that I like her based on how much I've written.
CALIFORNIA: I first loved her at Miss America a couple years back, but her natural beauty and her elegance put her on my radar during this because her walk was much calmer than any of the other contestants.
TOP 10 SELECTION
CALIFORNIA | MAINE | NEVADA | TENNESSEE | NEW JERSEY | NEBRASKA
NORTH CAROLINA | GEORGIA | SOUTH DAKOTA | FLORIDA
Evening gown I personally prefer over swimsuit. And this year I loved the gowns that the delegates selected! The walking patterns when all of the delegates were on stage I was a big fan of as well!
The girls who naturally stood out to me personally:
CALIFORNIA: Just pure elegance. I wasn't a huge fan of her hair, but she looked beautiful overall.
NEVADA: That is elegance and sexy at the same time. And the little turn she did at her final mark was flirty and made you look twice.
TENNESSEE: Her gown! Loved her except for the train aspect. That's my personal preference. But she walked with elegance and poise.
NEW JERSEY: Elegance and glamours while being sexy. She embodied in my mind a MISS USA. Personally I would have worn this gown in a heart beat!
NEBRASKA: I do love the black, and she looked stunning on stage. I just was not a fan of how high she held her skirt when she first came out onto the stage.
NORTH CAROLINA: This gown was so simplistic, but it really made her shine. She knew how to walk in it, how to pose, and in my mind she could have walked the MISS UNIVERSE stage with how she walked at MISS USA. Ps. The colour was to die for!
SOUTH DAKOTA: She was understated but knew how to work that gown! her face was phenomenal and make you keep watching her. This is when she stood out to me compared some of the other delegates in this TOP 10.
TOP 5 SELECTION
NEVADA | FLORIDA | NEBRASKA | NORTH CAROLINA | SOUTH DAKOTA
TOP 5 Q&A
The girls that had the best answers in my mind here Nebraska and Nevada. To be able to think quickly on your feet with approximately 30 seconds to process and produce an answer that will either be praised or ridiculed on YouTube for the rest of your life is definitely scary, but it is also part of the job. I was absolutely impressed with the selection of questions that the delegates were asked, but I was not a fan of how the delegates were asking each other questions rather than the hosts.
"TELL ME ABOUT A TIME WHEN YOU FELT UNWORTHY AND HOW YOU OVERCAME IT."
NEVADA: "A time that I felt unworthy was when my family and i became homeless and experienced this hardship a couple years ago. I felt like I could never accomplish anything in life, but through this circumstance it just brought my family and I stronger together, and I really learned how to appreciate life and I never take anything for granted, so through this situation I found myself worthy and I am grateful for that experience because that made my who I am today."
"SEXUAL ASSAULT IS AN ISSUE AT UNIVERSITIES ACROSS THE UNTIED STATES. WHAT DO YOU BELIEVE CAN BE DONE TO BETTER PROTECT WOMEN ON COLLEGE CAMPUSES?"
FLORIDA: "I believe, um in college campuses should have different groups and activities where women can self-defend themselves and that would be an opportunity for them to be able to make it better."
"TODAY, 1 IN 4 CHILDREN IN THE UNITED STATES LIVE IN SINGLE PARENT HOUSEHOLDS. HOW HAS THAT AFFECTED OUR GENERATION'S VIEWS ON MARRIAGE AND FAMILY?"
NEBRASKA: "I am so grateful to have grown up in a home with two parents. Hi parents out there. Um, and so I can't personally related to this however I do work in children's hospitals as a certified child life specialist where I am a liaison between the children and families and the medical team. And I've seen single mothers at the bed side and working remotely on their computers to stay by their children and support them. And I think that it just shows the children no matter if its a boy or a girl that they can [TIMES UP SOUND] do that."
"THE BOY SCOUTS RECENT DECIDED TO ACCEPT GIRLS INTO THEIR ORGANIZATION. DO YOU FEEL THIS IS A POSITIVE CHANGE, OR DO YOU THINK THERE IS VALUE IN SINGLE-GENDER ORGANIZATIONS."
NORTH CAROLINA: "I think this is a great change. I think we are in a time in America where, not America, we are at a time in the whole world where gender equality is a huge thing. I believe in 10, 20 years from now women and men are going to be complete equals and we are making those steps right now with the Boy Scouts."
"DURING THE LAST PRESIDENTIAL ELECTION, MORE THANK ONE THIRD OF WOMEN NEGLECTED TO EXERCISE THEIR RIGHT TO VOTE. WHY DO YOU THINK THAT IS?"
SOUTH DAKOTA: "You know, I am not sure why what is. I think that women are perfectly capable of expressing how they feel, and they should be able to vote and they should express that at the poll, and I think that we need to get out there as women and show that we are perfectly capable of doing that."
FINAL THREE
NEBRASKA | NORTH CAROLINA | NEVADA
THE FINAL WORD
"YOU'RE ON YOUR WAY TO A MARCH AND SOMEONE HANDS YOU A BLANK SIGN AND A MARKER. WHAT DO YOU PUT ON YOUR SIGN AND WHY?"
NEBRASKA: " I say speak your voice. I don't know what march we are on our way to in the hypothetical situation, but no matter where you are going, whatever type of march it is you're obviously on your way to that march because you care about that cause, so go and speak to people when they have questions, communicate with them, listen to their views also, that is one thing in the United States that we really need to focus on is listening to each other."
NORTH CAROLINA: " I would put on my sign Your Body, Your Rights. As someone who was sexually assaulted, as someone who stood up and fought against my perpetrators I am all about marching for your body, for your rights. Nobody ever has the opportunity, or has the right to touch you, to drug you, to do anything to sexually assault you, to harass you . That is never acceptable."
NEVADA: "I put on my sign Let's Work Together to Eliminate Homelessness. There are approximately 500,000 people suffering from this situation on any given night, and in my state of Nevada, we are ranked number three in the whole nation for having that much amount of homeless youth. I want to be an advocate and continue to raise awareness for the situation because if I experienced it first hand I can use my platform to raise awareness for these youth to never give up on their dreams no matter your circumstance. Your past does not define your future. You can make anything happen. If you believe it [TIMES UP SOUND] because I did , they can to."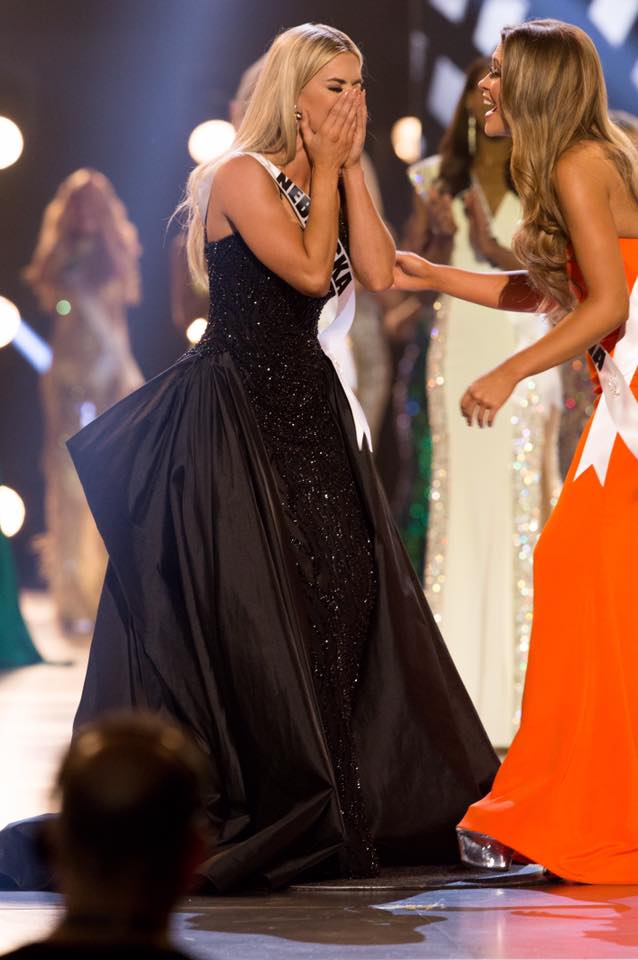 If you were at MISS USA, what question would you want to answer?
COMMENT BELOW. AND SHARE WHAT YOUR ANSWER TO YOUR QUESTION WOULD BE.
In my opinion, what put Nebraska over the top was her Final Word. She made the question generalized and could apply to any person going to a march. With everything happening in the United States right now, I think what she said will truly resonate throughout her reign as MISS USA 2018.
CONGRATULATIONS NEBRASKA! I AM EXCITED TO SEE WHAT YOU DO WITH YOUR REIGN AND HOW YOU WILL BE PREPARING FOR MISS UNIVERSE!