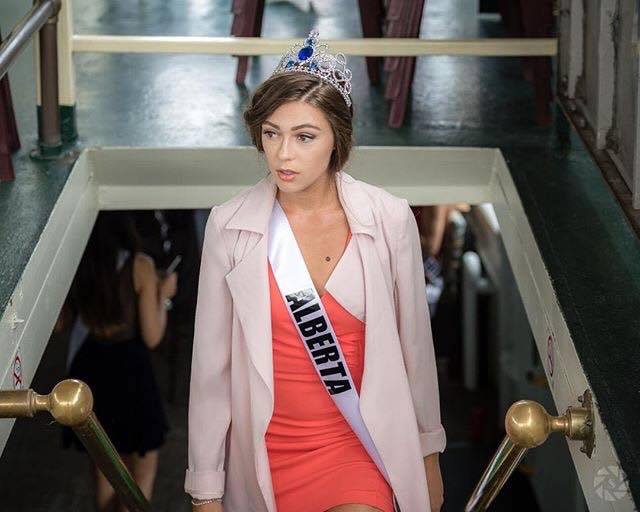 When you enter a pageant, you want a few things:
TO WIN
TO MAKE FRIENDS
NOT TO FALL ON OR GOING OFF THE STAGE
MAKE A DIFFERENCE & BE A ROLE MODEL.
The Miss Alberta World 2017 Pageant was the start of this year but as Miss Calgary World 2017.
I went into the weekend with high expectations that I would qualify for nationals that July. This was my first stepping stone to becoming Miss World Canada, or at least I was hoping it would end with that result, but I knew it was a long journey ahead of me.
I was nervous. I am always a bit nervous going into the competition. You never know who will be one to stand out on stage or in person. Photos of people can only tell so much. I knew though that I was happy with who I was and that is what I think is one of the most important parts of pageants; knowing your self-value and staying authentic to who you are and what you represent.
Happy to say, I was 2nd Runner-up and I knew I had the chance to be crowned Miss World Canada (once again, the goal).
This year has been one of personal growth for me. I have learned a lot about who I am, what I represent, and what I hope to accomplish moving forward. This time last year, I was the newly crowned Miss Calgary World 2017 and dreamed of representing Canada internationally. As a national finalist MTC-W Inc. gives each delegate a personal blog so she can keep a record of events she attends, things she is passionate about, and charities that she supports. This was the closing of my personal blog,
"With the honour of representing the beautiful city of Calgary in Alberta, I plan on taking full advantage of Calgary's backyard by climbing a couple mountains and cooling down in a glacier-fed lake or two. I will be spending as much time as I can be contributing to our community, volunteering, and raising funds for the official charity of MISS WORLD Canada (to be announced soon!) and other organizations near and dear to my heart. Being able to enlighten Calgary about my Beauty with a Purpose campaign, while having a double-double in hand, will be just as important during my time because there is active lifestyle available to all Calgarians that distinguishes Calgary as a world-class city to visit or live.
I do not know what the future holds for me, but I do know that I am capable of whatever comes my way. From July 16-23, I will be in Toronto competing for MISS WORLD Canada 2017 alongside some of Canada's up and coming entrepreneurs, actresses, athletes, teachers, but most importantly- role models. I hope to inspire and be inspired by those around me, and cannot thank you all enough for your continuous kinds words and support. I hope you are all part of my journey once again."
My time as Miss Calgary World was amazing and short-lived, I'll explain, but if you haven't noticed the bigger crown and more sparkly sash in my most recent blog post, keep reading! I had opportunities that were filled with optimistic and passionate people. I attended some events that were a lot of fun, but one of my favourites was speaking at EWI Calgary's Annual Hot Heels Fashion Show and Fundraiser. The people I met were driven and intelligent women who wanted those around them to better themselves. But I am happy to announce that I was recently invited back again this year to speak once again about my personal journey. The biggest part I think about being a beauty queen or being involved in pageants - whatever terminology you'd prefer to use- is being involved in your community.
The Calgary Community is constantly taking initiatives to influence change because they have the means to do so. I also got to attend the Raindrop Gala. It is an amazing event, and if you are interested in attending this year, tickets are still available. Trust me, if you are looking for an extravagant way to give back, this is it! You'll love every moment of it! That is a big reason why I keep coming back: how amazing the people who host it are, what they believe they should do to give back because it is just the right thing to do, and the Calgary Community that I love to catch up with and meet new people.
One event was planned by my current gown sponsor, the owner of Bells and Bows Bridal Centre, Angeline Mcdonald. She invited the Alberta Queens to make a trip south to Lethbridge, Alberta for a wonderful beautification project at the Chinook Regional Hospital. Several of the girls and I met up in our less sparkly clothing getting ready to get dirty in the dirt. There was a lot of laughter and photos of Alberta Beauty Queens spraying down colourful picnic tables and weeding gardens. But I am definitely thankful and happy we followed the advice of swapping out of crowns for gardening gloves.
The highlight of my time as Miss Calgary World 2017 was having the opportunity to meet all the Miss World delegates that summer in Toronto for a full five days of crazy. I had competed before with MTC-W INC as a teen so I kind of pretended to know what I was in for during Miss World Canada, but this was different, I really wanted to win a Canadian title and do as much as I could to represent Canada, Alberta, and Calgary to the best of my ability.
The women that I met during Miss World Canada are some of my best friends, some I had met from prior pageants, and others I had known through social media and we'd talked online because of pageants. But let's be honest for a minute, when you are in competition mode- you always creep your competitions and also get to know them beforehand so when you all show up that first day there is no icebreakers, just big hugs and it's as if you've been friends for too long already.
I hoped that I would win one of the national titles, but at the same time, I knew that each woman was deserving and would do wonderful things with the title. My experience at Miss World Canada was filled with too many memories and I'm grateful for each person that was part of this crazy adventure. The memories of having the fire alarm going off during our fitness testing, petting stingrays at the aquarium, and when my legs swelled up so badly that it did not look like I had any definition between my knee and my ankle. Let's just say all of that running didn't pay off at all. Definitely one of those things that I couldn't stop laughing about due to the fact that from Thursday to the finale when I was in my room those evenings I would sit upside down on my bed with my feet in their air, hoping and praying the swelling would even come down a little bit.
I won't go into too much detail about my time at Miss World Canada, comment below if you want a separate blog post about my time competing at the national pageant!
It has been 1 year. So much has happened. I grew as a woman when I travelled to Toronto and met all of these inspiring women. Each offered something different, and that is what I found so wonderful about it all, we were all different, we all wanted to influence change in our communities. Moving forward, I never would have dreamed where I am today and what I have done, but it really all started with competing last year at Miss Alberta World 2017 and placing 2nd Runner-up.
Stay tuned for a new write up about my time at this year's Miss World & Teenage Alberta 2018 Pageant! Definitely, something you are going to want to hear about!