Ellen. That is all you need to say and people will instantly start pulling up YouTube videos of this hysterical blonde woman usually dancing or discovering some child with amazing talents!
Knowing, let alone having Ellen Degeneres in Calgary had our entire city buzzing. When AARCS said that they were hosting an event in association with the CORE Shopping and Ellen how could I pass this up! IT IS ELLEN! Need I say more!
Trust me I can. AARCS brought along six new Shepard -Pit bul puppies to love and cuddle during the #EllenAttheCORE Heads-up Tournament! I was planning to play with puppies and spend some quality time with my Mom while giving a hand to the AARCS volunteers!
ARRCS teamed up with The COREshopping so that every time the #ELLENATTHECORE and this photo was reposted and shared, $1.00 would be donated to AARCS! Also, all of the raffle ticket costs would also be donated to AARCS! Amazing eh?! - Did you happen to catch how Canadian I was just there....
Spending the day playing with puppies- that didn't exactly happen since I got roped into playing in the Tournament! If you don't know me well, which a lot of people reading this don't- I have stage fright- odd coming for a pageant girl. But going anything related to drama or acting that I haven't prepared for takes me back to my shy-introverted natural self.
But hey, this was for ELLEN!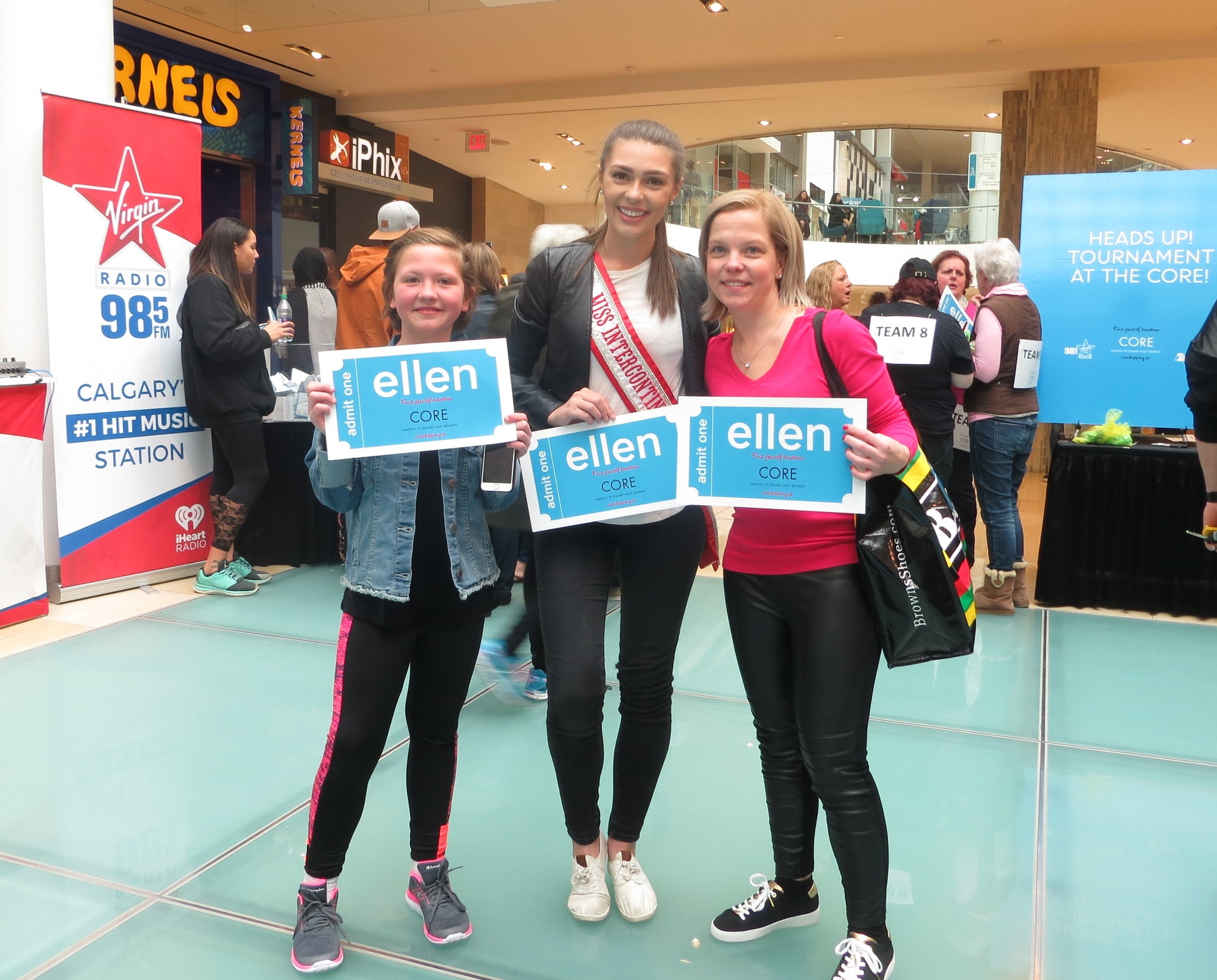 "Be Kind to One Another."
TEAM #32. That was the phrase I was waiting to be called for my utter embarrassment in front on the entire shopping centre! Microphone in hand, my mom had my camera and the countdown started 3-2-1 GO!
ROUND 1: ANIMALS. All in honour of AARCS. I am so thankful it was animals, and I was feeling pretty confident with my marketing degree in being able to describe animals. The microphone was in my hand and I was off with my amazing Team Member. But how do you describe a hedgehog or a heron?! Seriously, I have no idea so please comment below with how you'd describe these animals cause I was stumped.
I am naturally competitive but these Ellen fanatics put me to shame with their drive and were definitely fierce competition. Sad to say, after a tie breaker in Round 1, TEAM #32 was out of the running for VIP Tickets to meet Ellen that same night! These Ellen fans were some of my favourite people to watch, there was a separate sections for all of the Teams and they were all practicing HeadsUp to make sure they were on their best game! At this point I reverted back to the PUPPIES!
Like Ellen, the best part was a couple of the teams in the final won VIP tickets to MEET ELLEN that same night! Even more of an Ellen Moment, all of the contestants participating in the Heads Up Tournament in support of AARCS won tickets to watch Ellen that night! Unfortunately I had other plans and since I wasn't originally planning on competing I was more than happy to hand my ticket over to my teammate so she could take a friend.
I could not have asked for a happier weekend because of Ellen and AARCS puppies! Thank you AARCS for always allowing me to attend your events, be part of your team and be an ambassador for animal welfare too! I am looking forward to what is next!
If you want to see my awkwardness on stage attempting to describe animals, lots of PUPPY footage and the shopping centre bust with excitment, check out the video below!
For more information to how to help AARCS, be sure to jump to their website: http://aarcs.ca/

ALBERTA ANIMAL RESCUE CREW SOCIETY