Officially, I am not the reigning Miss Intercontinental Canada. July 28. 2018 I passed my title along to a wonderful Toronto gal, Alice- who I competed against/with last year.
I have said this before, I knew that I would be in a weird limbo period after I gave up my title. I had been in this pageant mindset since December 2016 when I applied to compete for Miss World Canada 2017. I won my regional title of Miss Calgary World 2017 that March and then prepared for Miss World Canada and Miss Intercontinental in Egypt of January 2018. If you did the math, I believe it is a little over 18 months. It has been an amazing run and I will treasure it forever- but once again I know for a fact I am in limbo until classes start in September to complete my undergraduate degree.
This month's prompts definitely have helped me get into a healthier mindset knowing that it is okay not to know my future, but know that I know who I am and what I want to do and dream about. Here are the AUGUST EDITION of 365 QUESTIONS FOR A BETTER YOU.
LET ME KNOW YOUR FAVOURITE QUESTION!
MY FAVOURITE QUESTION IS AT THE BOTTOM. CHECK IT OUT.
213. What do you do when your plan fails?
I think all plans have the opportunity to fail. What matters is how you pick yourself up if your plan fails, do you completely give up or adapt to your circumstance. I have experienced more failure than success, well at least in my mind, but because of that I really cherish when my plan comes together and I don't fail in that sense.
214. Do you change your mind easily?
Depends. If it comes to food I usually know what I want.
215. If you could spend quality time with someone special, who would this person be?
Herbie. My Grandpa, we called him Herbie- a personal story. Last year the family lost him to cancer. Although I was able to fly out to Toronto to see him one last time, I really do miss him and just want one of his hugs.
216. What do you believe you deserve in life?
Happiness. Everyone deserves happiness. Whatever you put into life you attract back. I am so grateful for my life and everything happens for a reason, but being happy is a state of mind. Everyone can be happy if they choose to be.
217. How important is it to have dinner with your family?
When the family was not divided across the country and not at practices every night we would all sit down for a family dinner. Having that moment of grounding to talk about your day with those that you love I do miss. I hope one day, if I have a family, that we will do the same as my family did when I was younger.
218. Where do you want to be by this time next year?
I hope to have completed my undergraduate degree. I technically should graduate this December, but just to be careful by the end of this academic year. Maybe I will have travelled a bit, and if not I really hope to work with an amazing foundation that I have been keeping my eye on for a bit of time. This time next year, I hope to continue to grow and evolve into a stronger person and love myself more and more every day. I wish to be happy, healthy and learn each day.
219. How do you define love?
To love and be loved unconditionally for who you are. Love in my mind should not be single sided because every person loves someone and is loved with or without their knowledge. It is priceless but can come with a cost. It can make you a stronger version of yourself or it can make you realized you need someone to help you stand strong.

220. How do you spend most of the day: sitting or standing?
Unfortunately, sitting.
221. How do you deal with compliments?
I am learning. I still do not feel comfortable receiving compliments, but I am learning that they come from a kind place. I do love giving them though to others.
222. What used to make you happy when you were a kid?
When I grew up in Ontario, the leaves would change to the most beautiful colours, reds, yellows, oranges. We would rake the leaves from our maple tree into a big pile, we'd spend hours ranking them. Then we'd spend twenty minutes making the biggest mess ever running through the pile, jumping into it and throwing it at each other. This was usually followed by riding in the tractor to bring the leaves to the back of the property. We were all so genuinely happy, without a care in the world, just living in the moment.
223. What makes you sad?
Being unsure of what is next. I put my heart into being Miss Intercontinental Canada. I have one month until classes start and I knew that I would feel lost and in limbo when I was back. Not knowing that is going to happen and not having that aspect of my life has made me sad, knowing that it was coming to an end and it is technically done. But like we all know, life keeps happening whether you like it or not.
224. Is there anything that causes you to stress on a regular basis?
Am I doing the right thing? That definitely causes me regular stress. Not knowing that the appropriate thing for me to do, school or do I compete again, what job should I get after my undergraduate degree. The uncertainty of my future causes me stress because there is no right or wrong answer.
225. If you had more free time, what would you do?
Design. Some time of design. Furniture, clothing, organization pieces. Something creative. Maybe that is why I have created this website/blog & have started YouTube. Although it gives a different perspective on Canadian Pageants, it also allows me to be creative.
226. What was the last TV program you watched?
The 100.
227. Pizza or popcorn?
POPCORN with assorted toppings.
228. What are your plans for your next vacation?
I did just come back from Europe. We had the chance to visit London, Athens and Crete. One day I would love to visit Thailand or Indonesia but that is a bit off since I will be starting classes again in September.
229. What do you do when you have some me-time?
Usually, I will curl up with a book or a cup of tea and just relax. If I am trying to be active- which I know I should be I will make some time for cardio, usually a bike ride or a slow run. I am by no means some Greek Olympian, but I do love going for a run even though I suck at them compared to a lot of avid runners. But I really am okay with that.
230. Travel destination of your Dreams?
I think this comes back to the previous Question #228, I would love to make an adventure of going to Thailand or Indonesia. Having always been in love with the people and the culture, in contrast to what Canada is and the age, being emerged into such a rich people and history would mean the world to me.
231. What do you generally do during lunchtime?
Since I am just getting back home I will wake up later in the morning, have a cup of coffee and ease into my mornings, and then start to answer emails and work on editing content since I am so behind.

TO SEE ALL MY PAGEANT/TRAVEL VLOGS, CLICK HERE

232. Describe your favourite picture of yourself.
When I was in Crete my sister captured me joking around a little in the great one-piece suit from Zaful! I was body conscious, but I couldn't stop laughing because I felt so awkward.
233. When was the last time you cried?
This morning actually. I won't go into too much detail. Long story short, it hit me that someone that I lost won't be here for something in my future. I know very vague, but it was a moment I had and do not feel comfortable sharing just yet.
234. How important are lifestyle trends to you?
For me it comes down to does it feel right for me. I am not a diet person or a crazy workout fanatic, but I like hearing the craziness that people are trying for two reasons, they are conscious of attempting to be healthy and second, their mental concept of normal makes me feel even more normal.
235. If you could time travel, would you go to the past or the future?
I would never want to know my future, I'd say past. Maybe 1920s. People always say I am very old fashioned and I loved their fashion. Also, I miss the manners that men used to have, holding a door boys is never seen as a bad thing in my eyes.
236. How do you draw the line between judgment and opinion?
Every person has their opinions. Judgement in my mind is when you judge someone. To have an opinion is one thing, but to pass judgement is another in my mind.
237. What's your favourite joke?
My little sister has the best puns or 'dad' jokes. Those recently have been my favourites because she has been gone for so long, I forgot how much she laughs at her own jokes which then makes me laugh.
238. Do you have the habit of worrying?
Within reason. If it is something that I am not confident about then absolutely.
239. How frequently do you watch the news?
I know for a fact- not as often as I should.
240. Digital or analog?
Analog. Like I said, I am old-fashioned.
241. Do you get up right away or do you snooze?
If I can afford to take some time I will lay there for a bit- if not, I can get up but I may not be happy exactly until I have caffeine in my hands.
242. The most important invention ever in your opinion?
Communication. The ability to communicate. We as a society are still working out the kinks. Having the ability to community verbally and through the written language is what powers a lot in our world.
243. How do you handle pressure?
I am told I perform under pressure best. Does that answer your question?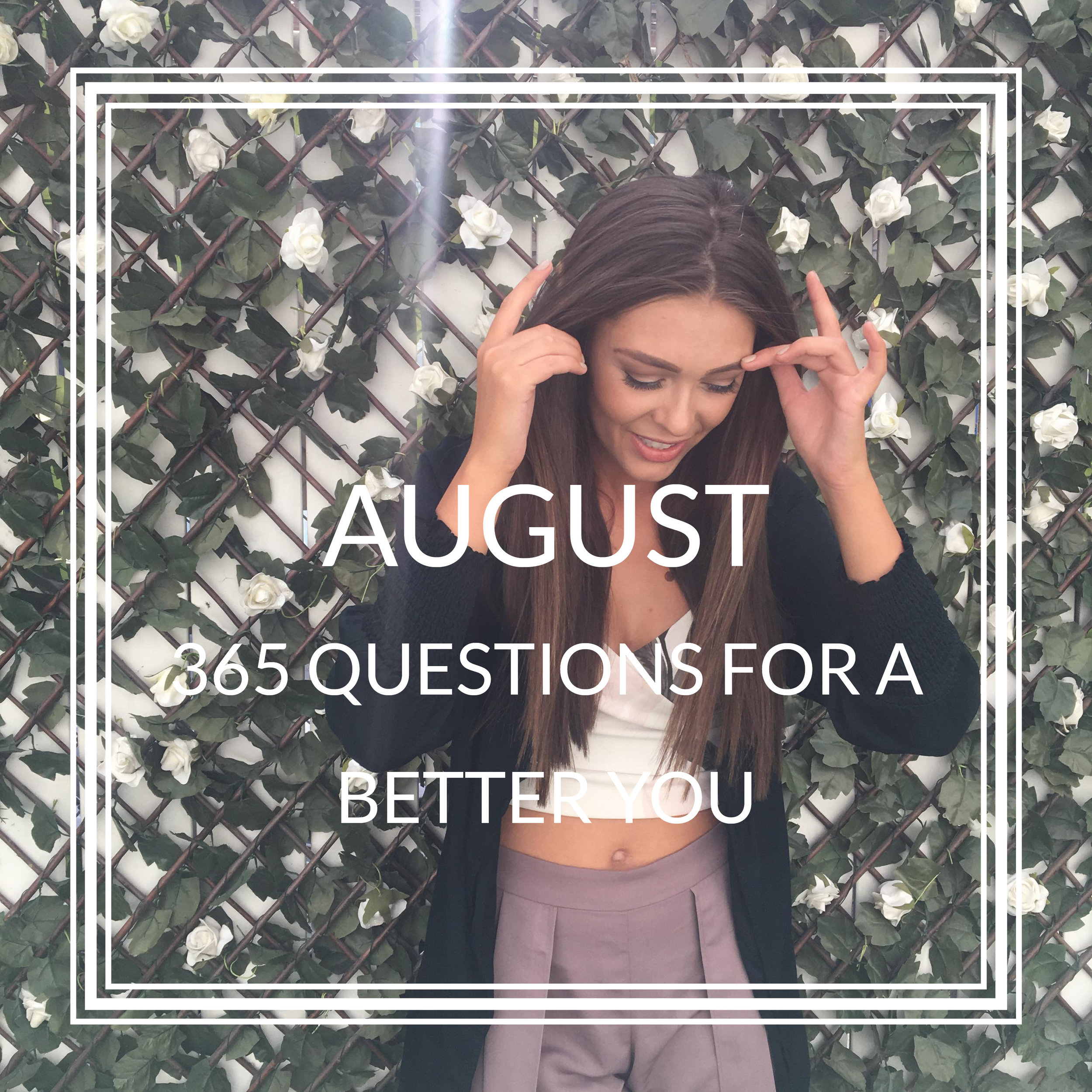 #222. What Used to Make You Happy When You Were a Kid?
WHAT ARE YOUR FAVOURITE QUESTIONS FROM AUGUST?
THANK YOU DEBBIE RODRIGUES FOR CREATING THIS.